03/30/2014
Some idea development for table setting with willow pattern and the Packard Automotive Plant. I am researching sand blasting, laser cutting and other image engraving techniques, that will combine with a blue and white image on porcelain blanks.
08/09/2013
I had the great pleasure of traveling to Watershed this past July; I reconnected with old friends and made many new ones. The best friend I reconnected with is my studio practice, two weeks of uninterrupted time to work, was an amazing blessing.
We had an incredibly international session of invited artists, two Israeli artists, Canadians, and a slew of USofA folks who have lived all over the globe. The casual dialogue about place, culture, similarities and differences was an incredible macro/micro experience. Watershed was my home for a year in 2005-6, its surrounding community is local and small town oriented and having this global perspective in an intense, intimate, and remote communal setting made for such rich discussion about our own position as makers and human beings.
I came to the session without any pre-conceived plan of studio work, though I am proud of what I have made in that time, I see them as only sketches of ideas. Ornament has always been a strong component in my work and shifting it from "applied surface on form" to "ornament as form" has given me a lot to think about and has renewed in interest to spend a little less time in the clean studio and a little more time in the dusty one.
08/09/2013
More Diorama in progress: cutting, gluing, painting, washes, and assembly take a while but I enjoy the meticulous nature of it. I have ideas of what the work is (sort of)… It has been a breath of fresh air to get out of the dusty studio and work in a clean space. I would never thought the work would have taken me here, but here I am. Its not to say I will not work in clay ever again, but for now the pace and flexibility of these other materials makes it so I can keep producing, and that keeps me sane.
07/15/2013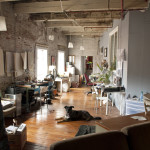 Yeah, so I moved into an old factory… Its open and airy, rough around the edges, but has some quirky charm. It has been very productive already. Though I loved living in my last place (Hope Rovelto's home), my studio practice has moved into a new direction and the space is much needed. We will see how winter goes… If you are looking to buy my a present sweaters and slippers are probably going to be needed.